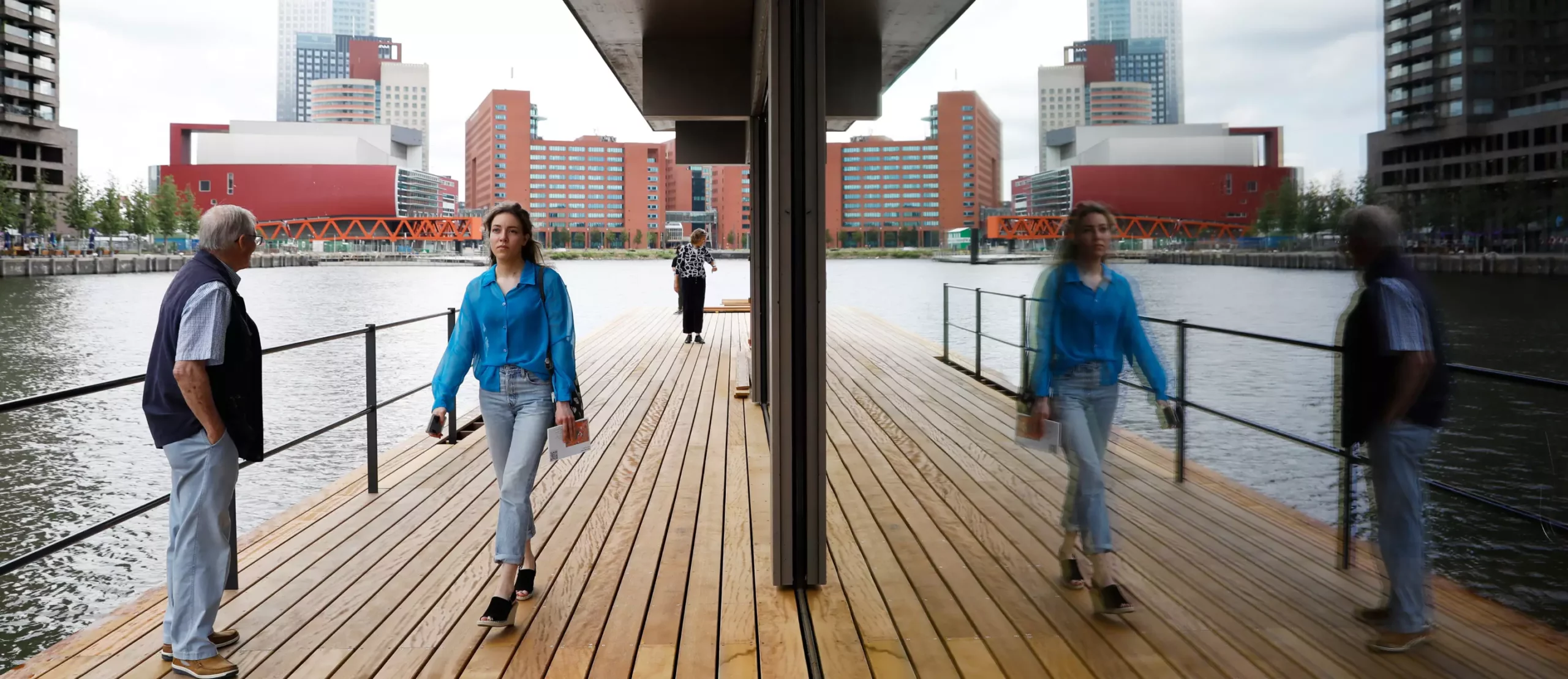 Around the Rijnhaven
Looking out from the Veerhaven over the Southbank of the Meuse, you'll see an architecture spectacle that could be best described as almost un-Dutch. No modest housing projects on the Wilhelmina pier or Katendrecht nowadays! You'd sooner imagine yourself standing in the docklands of London, New York or Shanghai. And the impressive skyline of Rotterdam is still growing day by day.
The high rise on the Wilhelmina pier and Katendrecht are the result of some 30 years of urban development around the former Rijn harbour. During this period a lot of effort went into bringing together the north and south banks and connecting them into one big city centre along the river. A big change was brought along by the Erasmus bridge, which made the Southbank instantly so much more accessible. The Wilhelmina pier started to develop itself from a deserted dockland into a mundane part of the city centre. World-famous architects, such as Rem Koolhaas, Alvaro Siza Vieira and sir Norman Foster left their landmarks at the pier. On this small peninsula, you'll find the three tallest buildings of the Netherlands and OMA's The Rotterdam is known as the building with the biggest volume on the European continent.

Katendrecht started its redevelopment a little less ambitious, but with the Fenix Lofts and the Groene Kaap, the area is adopting the shine of its brother the Wilhelmina pier. Katendrecht will be a remarkable residential area once more, with its infamous dockland past and its shiny new architectural designs as a promise for the near future.

In an architecture tour with UrbanGuides, you'll walk along the Wilhelmina pier and Katendrecht, crossing spectacular residential towers, monumental warehouses, industrial silos and cargo bike neighbourhoods. A professional guide will tell you everything there is to know about the historical land future developments of these areas and who was at the base of these plans. The architecture of a harbour city at its best!
Prijs/Duur
€ 210,- excl. BTW per guide

2 hours

Max 15 persons per guide