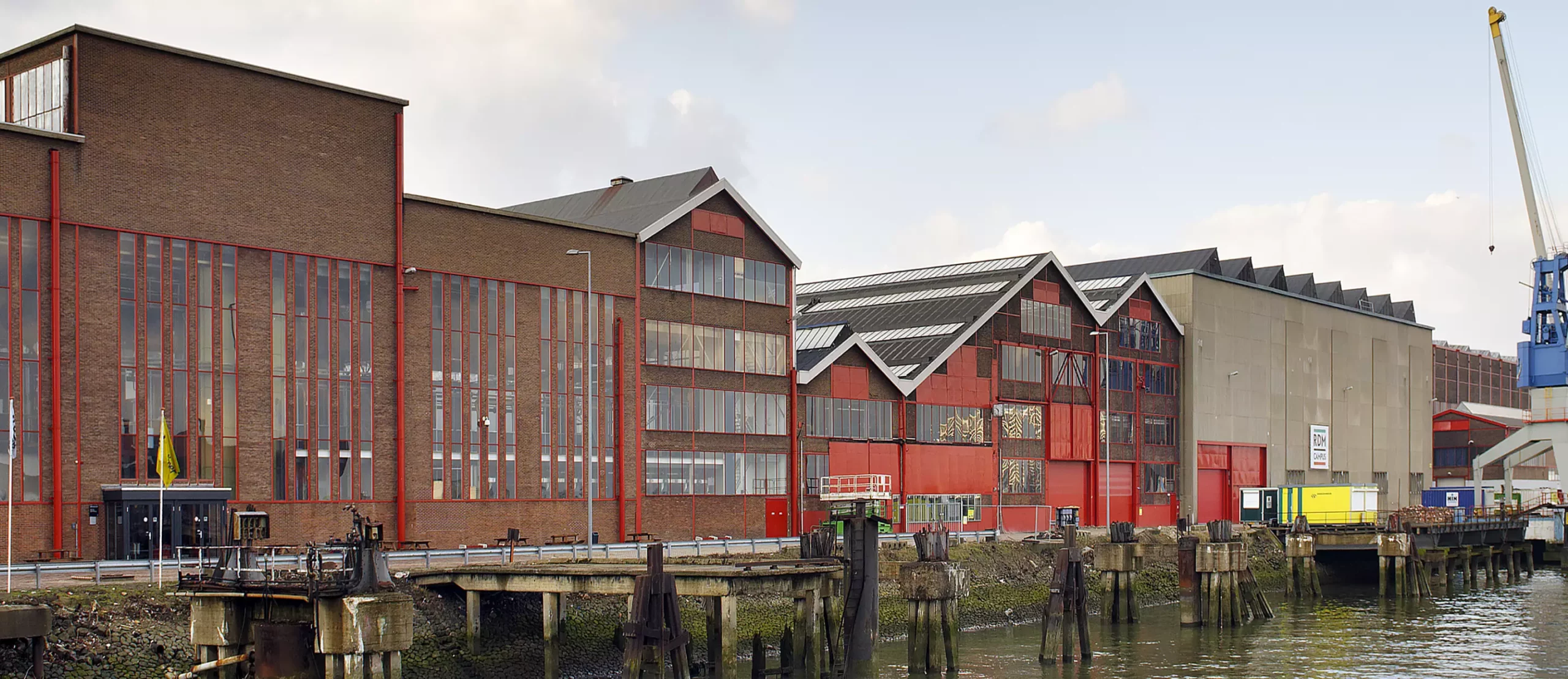 RDM Campus
One of Rotterdam's most spectacular examples of redeveloping an area is to be found at the Heijplaat. There the hundred-year-old shipyard, one owned by the Rotterdam Dry Dock Company (RDM), was transformed into a dynamic Makers District. The complex, which is stretched out over a pier along the river, is currently used for educational purposes and functions as a place where innovation is stimulated. All this can be seen in a tour by UrbanGuides.
When the RDM was founded in 1902, its employees started living in the nearby factory town, which was specially built for that purpose. Together with the quarantine buildings, this whole area formed a remarkable enclave in the modern harbour city of Rotterdam. Nowadays it can be seen as one of the former harbours with the most important cultural and historical value in town. The old head office, with its most important parts dating back to the 1913 – 1916's, has been renovated completely. It has a monumental marble floor and a boardroom and supervisory room in Art-Deco style.

Go on a tour with UrbanGuides and experience the dry dock where once the ss Rotterdam was built as the educational campus it is today. Together with an architecture guide, you'll visit the former machine hall, now known as the Innovation Dock, an industrial dock with a surface of some 23.000 m2 and heights up to 20 meters. Nowadays it is a place where education and entrepreneurs work together on the design of sustainable and innovative solutions in the fields of construction, mobility and energy. They cooperate under the motto Research, Design & Manufacturing (RDM).

During a walk over the Heijplaat, you'll explore the area together with an architecture guide. Along the way, you'll get an insight into how, while maintaining the historical atmosphere, the RDM was transformed into the campus of the technical faculties of the Hogeschool Rotterdam, the Albeda College and many innovative companies, from start-ups to big players.
For reservations and more information about the tours, you can contact the RDM information centre via telephone number 0031 10 – 252 44 72 or by sending an e-mail to rondleidingenrdm@portofrotterdam.com.
Prijs/Duur
On request

Max 15 persons per guide