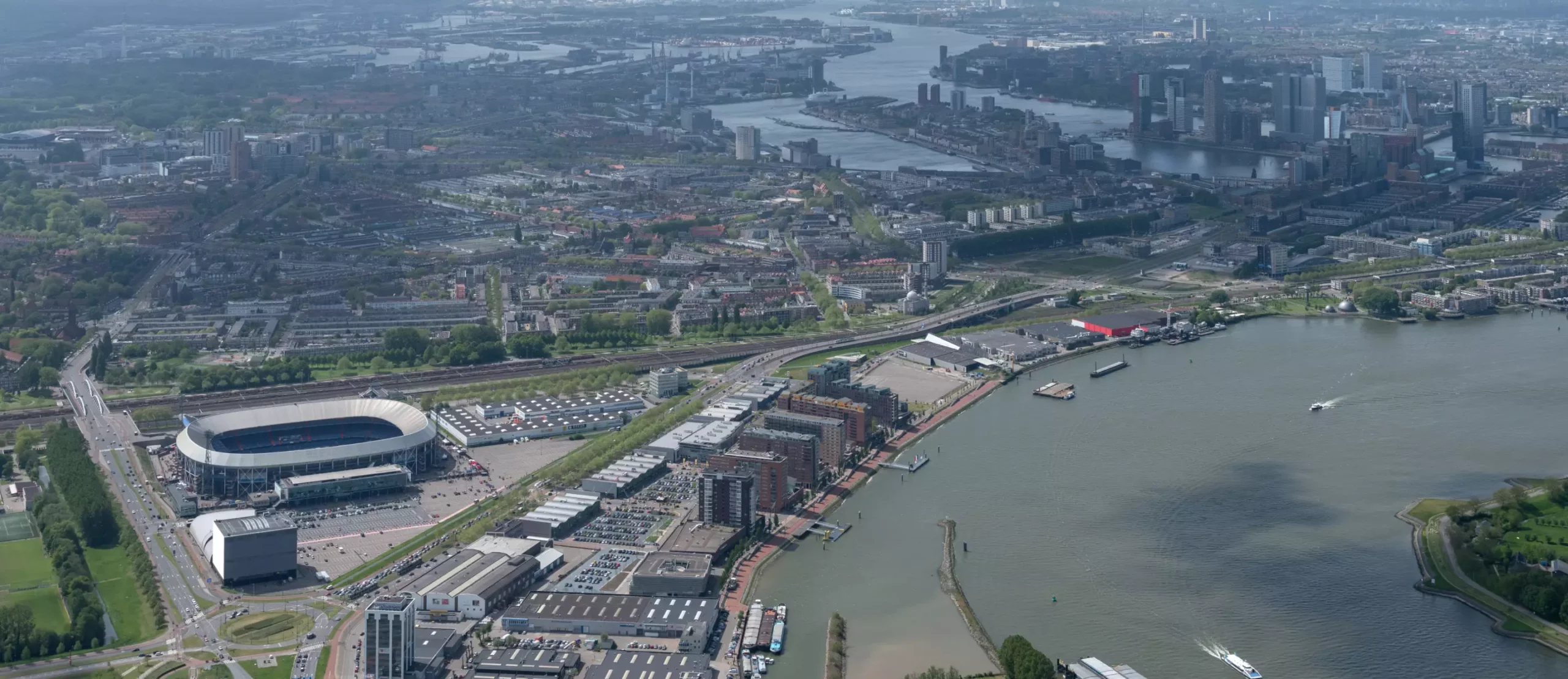 Rotterdam South
On the south bank of the Meuse lays an interesting and inherent part of Rotterdam. About the size of a regular Dutch provincial city, this area is full of examples of urban and social-cultural renewal in The Netherlands from the nineteenth century until now. There's a lot to explore at Zuid, both for Rotterdammers and for (inter)national visitors.
Nineteenth-century harbours and neighbourhoods
Halfway through the nineteenth century, the inhabitants of Rotterdam move southwards. At the island of Feijenoord and around Katendrecht they develop harbours and accompanying neighbourhoods for the dock workers. The city districts like Feijenoord, Afrikaanderwijk, de Kaap, Hillesluis and Bloemhof each have their particular history which is embedded with contemporary themes like gentrification, energy transition and social cohesion.

Garden cities and 'concrete villages'
Rotterdam-South is the nursery for experimental public housing in The Netherlands. A lot of the neighbourhoods were built in the nineteenth century with new and modern ideas and principles to provide good and affordable housing for the working class. Famous are the garden cities and 'concrete villages' like Vreewijk and Heijplaat; Kiefhoek, Stuhlemeijer and the Kossel. About a century later, these neighbourhoods provide a fascinating image of time.

Large-scale projects
To enhance the liveability of Rotterdam-South, large scale projects are being developed at the South bank such as the Stadionpark (Feyenoord City) and Hart van Zuid (Heart of South). In the latter transformation, the new theatre Zuidplein and the first Olympic swimming pool of Rotterdam are being realised. In Charlois, the municipality and various Rotterdam-based education organisations are working on Cultuur&Campus (Culture and Campus), which will open as a new cultural hotspot at the end of this decade.

The optimism of the garden cities after WWII in Rotterdam-South
After World War II, innovative city districts were developed along the outskirts of the city to cover the enormous housing shortage. Modern architects worked under the direction of municipal urban developer Lotte Stam-Beese to design the ideal garden city. Together they developed the 'wijkgedachte', in which every neighbourhood within a district has its own facilities to improve social cohesion within the city. Neighbourhoords like Pendrecht, Zuidwijk, Lombardijen and Groot-IJsselmonde are primary examples. While these areas are still open and modern in design, their optimistic character has faded to the background. Nowadays, there are new social and cultural initiatives to reinvent these garden cities in the twenty-first century.
Prijs/Duur
On request

1 till 3 hours

Max 15 persons per guide